Dry eyes can be incredibly irritating for contact lens wearers. You shouldn't notice the feel of your contacts in your eye, but the burning, stinging, and gritty sensations are hard to ignore with dry eyes. Finding the right contact lens type for dry eyes is essential to stay comfortable throughout wear. For dry eye, contact lenses need oxygen permeability and the best replacement schedule for you.
An accurate contact lens fitting at View Pointe Vision + Style can find a contact lens style that suits your lifestyle and addresses your dry eye concerns. After a thorough contact lens fitting and assessing your overall eye health, we can only make recommendations.
What Causes Dry Eyes?
Your tear film has a few different layers: the top layer of oil, the middle layer of water and proteins, and the bottom layer of mucus. If anything disrupts these layers, you can experience dry eye symptoms.
Dry eye can occur due to natural aging, hormonal changes, or health conditions. Your environment can trigger dry eyes from pollution, medication, digital screens, or indoor fans.
Suppose you have an insufficient amount of tears or poor tear quality. In that case, you can develop redness, light sensitivity, blurred vision, and other unpleasant dry eye symptoms that make wearing contact lenses more uncomfortable.
What to Look for in Contact Lenses for Dry Eyes
Having dry eyes doesn't mean you can't wear contacts at all, but you shouldn't compromise on certain features in contact lenses. The fit, oxygen flow, and water content play vital roles in keeping your eyes hydrated (or not).
Fit
At View Pointe Vision + Style, we offer affordable contact lens fittings before we make any contact lens recommendations. We examine your eyes, take measurements, and discuss your contact lens expectations before we start with a trial pair.
During your dedicated fitting appointment, we'll review contact lens care and hygiene to set you up with a foundation that puts your eye health first.
Oxygen Permeability
Contact lenses cover the eye's cornea; if your eyes are dry, they can become uncomfortable. Lenses with free oxygen flow can support the cornea's health, inhibiting irritation.
Soft contact lenses are made from a soft, oxygen-permeable flexible plastic that's easy for most wearers to adjust to. Their breathability makes them well-liked by contact lens wearers who struggle with dry eye.
Rigid-gas permeable (RGP) lenses, sometimes called hard contact lenses, are durable and maintain their shape as you blink. Since they sit over the cornea without forming to it, the vision stays consistently clear and sharp, making them an ideal lens for those with high astigmatism.
Scleral contact lenses are a specialized type of RGP lens that limits the contact between the lens and the cornea. They vault over the eye, leaving a reservoir over the cornea where the natural tear film can rest and hydrate the eye.
Water Content
Soft contact lenses are available with varying degrees of water content. If you think contact lenses with more water offer better hydration, guess again. Lenses with more water may offer more moisture to the eye initially, but once that runs out, the lens will start to siphon hydration from the tear film, drying out your eyes.
How to Eliminate Dry Eyes From Contact Lenses
Once we find contact lenses that relieve your dry eye, properly caring for your lenses will go a long way in keeping your eyes healthy and hydrated.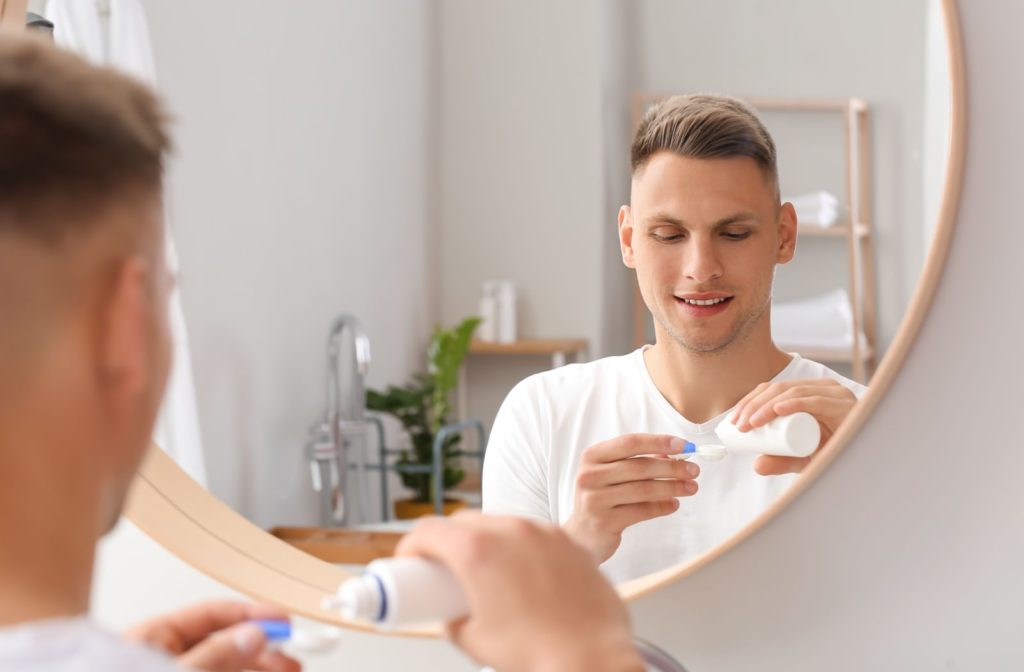 Select the Right Solution
Even with the right contact lenses, the wrong solution can aggravate your dry eyes. A generic multi-purpose solution can have a higher pH level than name brands, which can irritate and dry out your eyes. The View Pointe Vision + Style team can offer recommendations for contact solutions following your contact lens fitting.
Replace Your Contact Lenses as Scheduled
If you wear a pair of contacts too long, you can accumulate debris, proteins, and deposits on the lenses, irritating your already-sensitive eyes. Shorter replacement schedules, specifically daily disposables, can help eliminate it.
Another benefit of daily disposables is that you don't have to worry about sterilizing and storing the lenses at the end of the day. It reduces the risk of developing eye infections due to contact lens wear. You simply throw them away and start with a fresh pair in the morning.
Get a Precise Contact Lens Fitting in Winnipeg
Dry eyes are common, and you shouldn't have to live in discomfort to wear contact lenses.
You may have been told your eyes are too dry for contact lenses, but View Pointe Vision + Style can help. Our experienced team can take precise measurements for your eyes, and they will consider your symptoms to help find the best options for treatment.
Contact us for a contact lens fitting appointment to explore all your options for vision correction.