Online shopping has made it simple to buy almost anything from the convenience of your home. Eyewear isn't an exception. The fact that many optometrists and opticians dislike this trend is not necessarily a secret, but not for the reasons you might think.
Our responsibility as eye care professionals is to ensure that you experience consistently sharp and clear vision during your yearly eye exams. We aren't able to guarantee that you are getting the best corrective options when you purchase eyewear from online retailers.
Buying Glasses Online
We know that the convenience of buying glasses online is enticing, especially in a world that loves the click-and-buy process of many big online retailers. But when it comes to your vision, it's smart to put a little bit more thought into your purchase.
Trying on Glasses
Many online retailers offer the ability to virtually try on glasses, but we're willing to bet the results aren't very accurate. Nothing beats the feeling and seeing the look of a new set of glasses physically on your face.
After all, you are likely going to be wearing your glasses more often than not. Where your glasses sit on your face, the comfort, as well as the style, are way easier to get a true judgment of by going to your trusted optometrist.
Pupillary Distance
Your optician will measure your pupillary distance when you order glasses. The distance between the centers of one pupil and the other is known as the pupillary distance. Pupillary distance is called "PD" and is measured in millimeters.
Pupillary distance is crucial when putting on any type of glasses. This is because your pupil should be precisely aligned with the optical center of every lens.
This optical center is something that is not measured when purchasing eyewear online. This is the height where your pupil sits in the frame, also measured in millimeters. Online retailers position the optical centre half-way between the top and the bottom of the frame. If the measurement is off, it won't line up with your pupil. Instead, you'll be using a different portion of the lens, which will make almost everything out of alignment.
Your ability to focus properly may be impacted, which may result in headaches, tired eyes, blurry or double vision, dizziness, and nausea.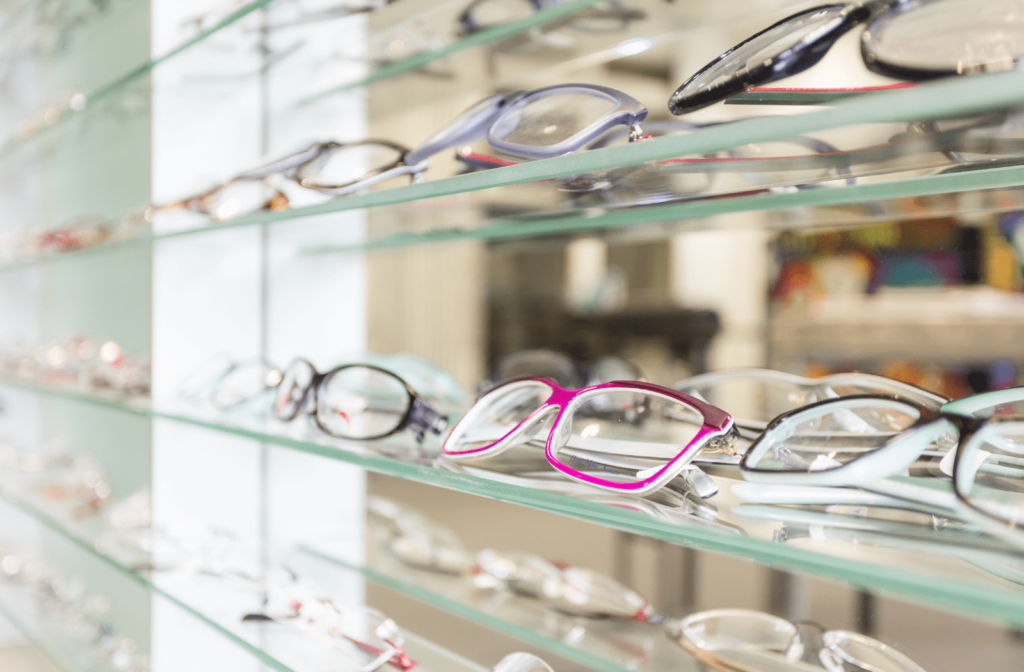 Prescription Strength
You enter your prescription when ordering glasses or contacts online. The possibility of entering a typo or an out-of-date number is high.
In most cases, only one prescription is entered for each pair of glasses or contacts. Even though most people have different vision levels in each eye, both eyes receive the same prescription strength. It's also important to note that a prescription given for glasses will not usually be the exact same as a prescription given for contacts. This is because of the vertex distance, the fact that contact lenses sit directly on your eye and eyeglasses sit several millimeters in front of your eyes.
The majority of online orders for progressive lenses are unsuccessful. This relates back to the importance of the optical centre measurements and the fact that progressive lenses have several different areas of vision. Fine-tuning is often needed, and even minor changes have a significant impact.
Cost
The biggest draw people have to buying glasses online is the perceived cheaper cost. However, most people are unaware that purchasing glasses from your trusted eye doctor is not only the best way to find a great pair of glasses but will also result in lower costs, excellent customer service, and a precise prescription.
Many online sites appear to advertise great deals, free shipping, and a desire to save you money, but you have no way of knowing if that is the best price or product available. Only someone who has worked in the eye care industry for a long time can give you an accurate estimate of cost, and quality.
Glasses at View Pointe Vision + Style
When purchasing glasses, you often don't know how the frame will sit on your face or how the lens will perform overall. There are many different types of lenses that use anti-reflective coating, are made specifically for computer viewing, or were designed for specific people and may not suit your needs.
People who wear bifocals, for example, require a specific type of lens to maintain the best vision, and only an optician can recommend the right brand or frame for you.
At View Pointe Vision + Style we have styles for every face shape and every need for your budget. Some brands we carry include:
Kate Spade
Hugo Boss
Tom Ford
Ray-Ban
Nike
Although glasses are typically worn to help with vision, they can also be worn as a fashion accessory to help express your individual style. If you need glasses for vision correction, wearing them may feel more required than fashionable, but that doesn't have to be the case.
In 2022, there are so many styles to choose from and try on at your optometrist's office. We recommended stepping out of your comfort zone a little to try something out of the ordinary, which is made easier when you're shopping in person. Some trends for 2022 include:
Cat eye frames. A retro classic, cat-eye frames are suitable for almost any face shape.
Thick-rimmed dark frames. Consider your face shape as well when selecting thick-rimmed glasses. More angular looks can give rounded faces a sharper edge. Look for thick-framed eyeglasses in softer hues like navy or dark red if you're concerned that a traditional black frame might make you look washed out.
Wire Frame. The most delicate of designs, wireframe glasses are less obvious to the naked eye, especially when they are donned in a traditional light metallic shade like rose gold or yellow, which gives the impression that the wearer's face is actually "naked."
If you're interested in trying out some new frames, we have trained eyewear consultants available to make sure you find the perfect most comfortable fit possible, that's also within your budget. Book an appointment in Winnipeg today.